Learn about which Tigressá carpet is right for your home and visit our store!
Whether you have an active family or an accident prone pet, Tigressá carpets are made to last! With innovative technology utilizing precision engineered high-tensile denier filaments, nylon fibers that allow more filaments per square inch, and a unique backing making their carpets waterproof, Tigressá does it all!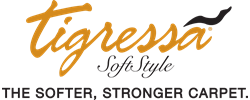 Tigressá Softstyle – Softer, richer, stronger, Softstyle provides a unique fiber construction that is thinner than a human hair. It's closely knit fibers protect against matting and overall wear, maintaining its softness and strength year after year.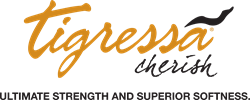 Tigressá Cherish – Unmatched with its lavish plush softness, the rich colors inspired by nature are fade resistant. Nylon crafted from recycled resources, Cherish is a Green Select product that can also be renewed in the future as well.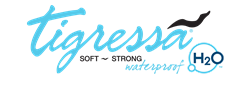 Tigressá H2O – Offering waterproof construction preventing liquids from soaking through the carpet into the cushion and subfloor, H2O is perfect for a home with active families and messy pets.