Best Luxury Vinyl Plank Flooring
Hardwood flooring is a great way to add beauty and value to your favorite spaces, but it's not appropriate for every setting. Kitchens, bathrooms, and other areas prone to moisture or humidity are all poor candidates for natural hardwood. With its beautiful and eclectic surfaces inspired by hardwood, stone, and other luxurious materials, vinyl plank flooring – a type of luxury vinyl flooring- makes it possible to enjoy authentic, organic-inspired styles nearly anywhere.
With its sumptuous visuals and high performance capabilities, vinyl plank flooring promises enduring value. This is a floor made to withstand it all: roving pets, frenzied children, and your extremely hectic lifestyle. It achieves such strength via its unique, layered construction: with a damage-resistant wear layer on top, followed by a high-definition design layer offering realistic visuals. Heavy-duty core and base layers offer added stability and support.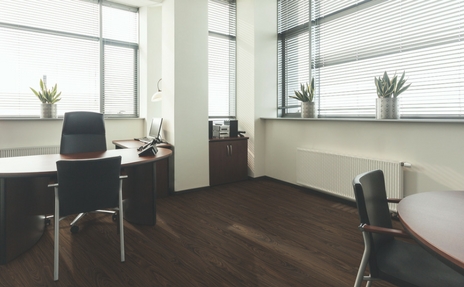 Vinyl Plank or Hardwood?
Are you still not convinced that vinyl plank flooring is a convincing substitute for hardwood? Let's look a little closer.
Resists Wear: Vinyl plank has a sturdy wear layer, giving it a durable advantage over wood.
Resists Water: While wooden planks won't tolerate water, vinyl planks are made to be installed in moisture-prone areas.
Affordable: From its initial purchase, to its ongoing maintenance, vinyl plank is considerably more economical than hardwood.
Convincing Beauty: Thanks to innovations in digital imaging, vinyl plank looks (and often feels) almost exactly like hardwood.
Waterproof Vinyl Plank Flooring
While all vinyl plank floors are water resistant, not all vinyl planks are created equal. Waterproof luxury vinyl plank flooring built to incorporate rigid construction, a reinforced core, and a watertight seal. These three factors mean waterproof vinyl plank won't let moisture seep through, making it a wonderful option for all your favorite spaces.
WPC flooring, or wood polymer composite, is one type of waterproof luxury plank that's become extremely popular recently, due to its extreme durability.
Where to Install Vinyl Plank
As we've learned, luxury vinyl plank works just about anywhere. While waterproof varieties work best in the kitchen or bathroom, almost all types are appropriate for the living room, or bedroom. It's all up to you.
Our Vinyl Plank Flooring Selection
At Carpet One Floor & Home of Murrieta, you'll find all your favorite flooring brands, and more, including featured brand COREtec, which boasts a cork underlay and is available in waterproof options.